Why Brock Lesnar should stay with WWE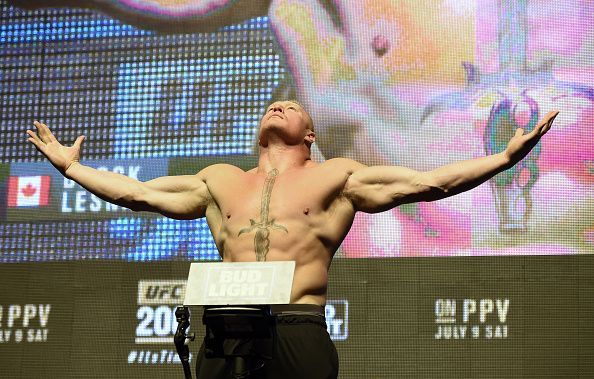 Brock Lesnar is considered one of the most athletic individuals that has ever stepped foot in WWE and Mixed Martial Arts. With that being said, there are rumors that Lesnar may be on his way out of WWE for the second time and could be heading back to the UFC, some might say that this is a pretty risky move for the 40-year-old wrestling veteran. As being considered a former UFC heavyweight champion, there's no doubt that the UFC would hype up Lesnar if he were to make a return to the promotion.
However, it may be a more suitable approach for Lesnar to re-sign with WWE considering these following reasons.
Lesnar was considered one of the biggest PPV draws in MMA at the height of his career in UFC, so there's no doubt it's a good business move for the UFC to re-sign him.
However, this was a different time period, thus there are questions if Lesnar will have the same success in his potential return to the UFC as his first run. And it's worth noting that Lesnar's a lot older now, which could come to affect his performance in the octagon.
With Lesnar's age and the health problems that he's had in the past, could Lesnar really compete with the likes of Stipe Miocic, Francis Ngannou, or even Alistair Overeem, who beat Lesnar once before during his first run?
While Lesnar's age and health could be a major issue in him returning to MMA, it may not also be a smart move by Lesnar to leave WWE due to the reported amount of money their willing to pay him. But if UFC aren't able to pay him due to any reason, then Lesnar could lose a lot of money for a UFC comeback, that may or may not work in a positive way.
Keep in mind that many would consider Lesnar's current salary with WWE alongside his part-time schedule a great deal, especially because he's considered one of the biggest stars in the company today.
The Beast re-signing with WWE could be more of a smart move for him financially, and keeping his star-power alive just in case he doesn't have the same success in the UFC. And when it comes to star-power, WWE would most likely continue to book Lesnar as a "dominant force" in the ring, thus keeping his credibility alive.
The question of whether Lesnar re-signs with WWE or goes to UFC is going to be pretty interesting as time goes by and WrestleMania is on the horizon.
Source : sportskeeda.com