SK's Take on Dean Ambrose returning to partner Braun Strowman at WrestleMania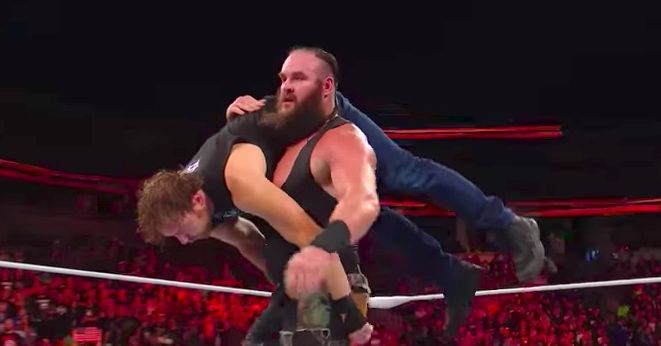 Former World Champion Dean Ambrose has been sidelined over the past few months after suffering a tricep injury back in December. The Lunatic Fringe's time on the sidelines was revealed to be around nine months and he hasn't been seen on WWE TV in 2018.
Braun Strowman won the battle royal a few weeks ago on Raw to give him the opportunity to fight for the Tag Team Championships against Cesaro and Sheamus at WrestleMania, but it seems that in order to do so he has to find a partner on a roster where he doesn't have many friends.
It was recently revealed that Ambrose was taken off the listing for WrestleMania Axxess for the morning of WrestleMania, which usually means that he will be needed as part of the show instead. It's not likely that his injury has gotten any worse since he has been seeing doctors in Birmingham over the past few months and it seems that the general feeling surrounding his return is positive.
Even though he was thought to be out for nine months, John Cena suffered a tricep tear a few years ago that was much worse that Ambrose' and he was out for just six months which means that WrestleMania is well within the timeframe for return after he's already spent three months on the sidelines.
Before the former World Champion was taken out of action, he was part of a feud with The Bar over the Tag Team Championships, which means that it would make complete sense for him to come back and go up against them to become a Champion once again.
Strowman and Ambrose have never had the chance to work together as partners, but have faced each other a number of times and Ambrose even helped to attack Strowman when The Shield reunited last year which led to him then being part of their match at TLC Tables: Ladders and Chairs.
Seth Rollins has seemingly moved forward without Ambrose and even though their rumored feud is still said to be on the cards, it looks as though Rollins could be part of a feud with Finn Balor for the foreseeable future, which would leave Ambrose with nothing to do, but extract revenge against The Bar. It was The Bar and Samoa Joe that put him out of action and the best way for him to get revenge would be for him to take away their titles and it seems that finally, he has a partner that can help with that.
Who better to partner someone who has no limits and no problem stepping over the line that the man who has built his career of breaking rules? There are a number of other options like Samoa Joe who seems to be one of the favorites to return, but since these stars are both heels, Ambrose makes much more sense.
Source : sportskeeda.com.