From the WWE Rumor Mill: Paul Heyman hints at identity of next client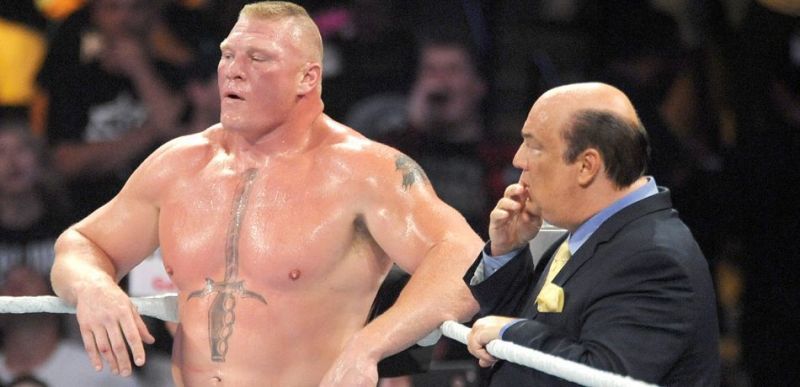 What's the story?
Brock Lesnar is set to leave WWE for the UFC after WrestleMania 34 which leaves his advocate Paul Heyman without a lucrative client to manage. However, an exclusive report from The Wrap has revealed Heyman's plans for the immediate future and it does not involve WWE.
Additionally, two top stars have been mentioned as the potential replacement for Lesnar if Heyman does decide to renew his contract, which also incidentally expires after Mania.
In case you didn't know…
A majority of the Beast Incarnate's success should be attributed to Heyman's masterful work on the mic and his effortless ability to sell a feud. The current Universal Champion has been on the top of the mountain for a few years and it will all come to an end on April 8th when Roman Reigns expectedly becomes the new Universal Champion.
Lesnar has made his intentions clear of returning to the Octagon and if WWE would not be able to stop the former UFC Heavyweight Champion from jumping ships unless they offer a hefty package.
In the midst of Lesnar's contract negotiations, Heyman's future is also up in the air but the former ECW head seems to be branching into a different avenue.
The heart of the matter
According to The Wrap, Looking 4 Larry's (L4L) Mitchell Stuart has convinced Paul Heyman to co-produce and star in a new tv series that will be made in collaboration with Banca Studio owned by Roy Bank.
While not many details of the show have been made public, Heyman did comment on how he got the gig and give hints of how the show would be like:
"Against my strenuous objection, Roy Bank has decided our first collaborative project will be centered around me. I have come to the educated conclusion Roy has made this decision based on a desire when pitching from the networks that we learn how to deal with rejection."
Talking about the show, Heyman summarized it perfectly by saying, "Created by people with ADD for people with ADD, to be enjoyed by people who would subscribe to a theology of ADD."
Heyman can continue to fulfill his obligations with WWE while also focussing on the tv show and the report reveals Ronda Rousey and Roman Reigns as the two names being discussed as the new Paul Heyman client.
What's next?
With Reigns' name popping up, Heyman turning on Lesnar at WrestleMania sounds even more plausible now. Triple H confirmed that WWE will get into talks with Lesnar regarding extending his contract but it would all happen after Mania.
Backstage plans change like the weather and it with Bobby Lashley too all but confirmed to return, Heyman could be spoilt for choice.
Author's take
Whether it is Ronda Rousey, Roman Reigns, Bobby Lashley or Asuka for that matter, WWE needs to keep Heyman on tv and should use him to elevate a talent.
Who do you want to see Heyman form an alliance with after the show of shows? Sound off in the comments section.
Source : sportskeeda.com.