WWE News: Ronda Rousey debuts at Royal Rumble, signs full-time deal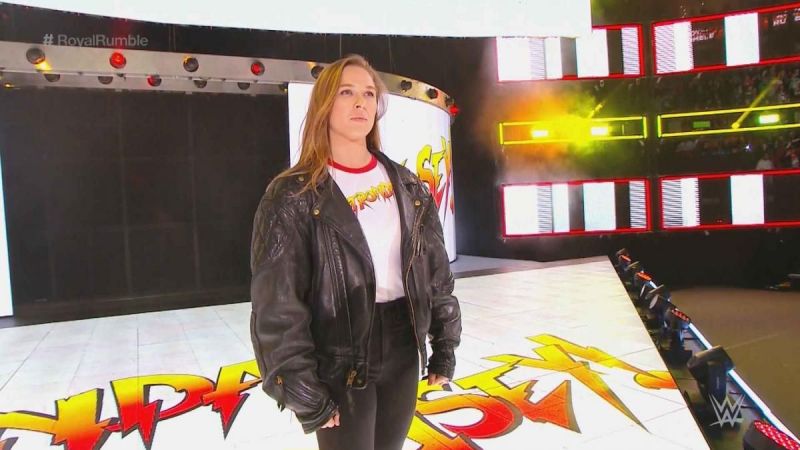 What's the Story?
The rumours surrounding Ronda Rousey's status with the WWE turned true as the former UFC Champion debuted at the Royal Rumble and has signed a full-time contract with WWE.
In case you didn't know
Rousey's appearances in WWE and her recent dinner with Triple H convinced many that there was a deal in place and Rousey's debut on WWE programming was inevitable. The announcement of the Women's Royal Rumble match led to more speculations about Rousey in-ring debut in the near future.
The heart of the matter
Many fans were concerned that Rousey joining WWE would potentially be nothing more than a cash grab for her; similarly, to how fans view Brock Lesnar's status with the company. However, Rousey dismissed these claims in an interview with ESPN.
"This is my life now. They have first priority on my time for the next several years and this is not just a smash and grab, this is not just a publicity stunt."
The excitement surrounding Asuka's victory in the Women's Royal Rumble would shift from to the debut of Rousey in the WWE who came out to the ring wearing a jacket gifted to her by the son of the late Rowdy Roddy Piper.
Fans in attendance filled the Wells Fargo Arena with cheers as Rousey walked down the ramp and entered the squared circle to foreshadow her future with the company.
Rousey pointed to the WrestleMania sign and extended a hand to Asuka, but the "Empress of Tomorrow" swatted her away.
With a huge grin on her face, Rousey exited the ring and walked over to the commentary booth to greet Raw Commissioner Stephanie McMahon and the two shook hands before Rousey walked back up the ramp and soaked up the energy from the crowd.
What's Next?
There was a lot suggested by Rousey's appearance at the Royal Rumble, but the odds of her competing at WrestleMania were never in doubt. The only thing that fans want to know now is which brand she'll wrestle on and who her first opponent will be.